Książki oraz podręczniki.
Kontakt
tel. 800 70 30 91
Wieluń


Popularne produkty
Książki, Wydawnictwa naukowe i popularno-naukowe, Powieść zagraniczna, Literatura dla dzieci, Poradniki. Informatory. Spisy, Szkoły policealne. Szkoły wyższe, Dla najmłodszych
Popularne marki
Pwn wydawnictwo naukowe, C.h. beck, Egmont, Wydawnictwo olesiejuk, Wolters kluwer, Znak, Cambridge university press, Muza, Difin, Prószyński i s-ka, Bellona, Świat książki
Rekomendcja klientów
Monitorowana jakość obsługi
opinie pozytywne: 0
opinie neutralne: 0
opinie negatywne: 0

Brilliant Classics
Opis
Brilliance, fluency, clarity and extraordinary communicative powers -- Mozart seems to have had them all. Little wonder he was hailed as the finest pianist of his generation -- even rivals such as Clementi commented 'I had never heard anyone play with so much spirit and grace...'Of course we have no idea how Mozart the keyboard player sounded. We have the reviews and comments of those who heard him perform, and we have the instruments of his time. These do take us some way to understanding performance practice of the day, and the limitations of the instruments, and how composers of the late 18th century worked to test the instruments, and make greater demands upon the constantly evolving pianoforte. On this first complete cycle using instruments of the period, Bart van Oort relishes the timbral possibilities of five carefully restored and copied instruments to convey Mozart's music as directly as possible without the necessary "translation" when playing a modern grand. This results in a great clarity of sound and structure.Other information:- Recordings made in 2000--2005.- Bart van Oort is one of today's foremost fortepiano players. After winning the Mozart Fortepiano Competition in Bruges in 1986 he was instantly recognised as a master of his instrument, exploring the rich possibilities of the fortepiano, and using his immense historical and musicological knowledge for a better understanding of the Viennese classical style of Haydn and Mozart.- This set of complete piano sonatas of Mozart is part of van Oort's 'Mozart's Complete Keyboard Works', a set which was praised in the press unanimously: "His Mozart, played with a fine sense of style and smooth technique reached an emotional depth... (Washington Post), "lively, sympathetic, light flowing touch, expression of feeling" (International Piano Choice), and many more.- Includes booklet notes on the repertoire and an introduction by Bart van Oort which addresses the challenges and pleasures of playing Mozart on the keyboards of his time.
Dane techniczne
| | |
| --- | --- |
| isbn | 5028421944296 |
| ean | 5028421944296 |
| autor | Bart van Oort |
| format | 13.0x13.0cm |
| oprawa | kartonowa |
Sklepy z Mozart: Complete Piano Sonatas
Sposoby płatności
Płatność przy odbiorze
Przelew bankowy
Karta kredytowa
Dostawa towaru
Wskaźnik dostępności towaru
Śledzenie stanu zamówienia
Poczta Polska [do 5 kg]
Przesyłka kurierska [Ups, dhl]
Zobacz wszystkie
opinie klientów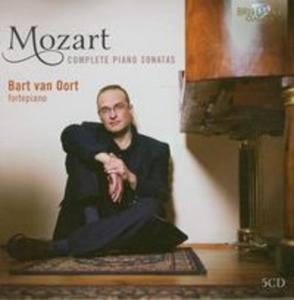 Powiększ zdjęcie
Cena: 53,90 zł
wysyłka 1 dzień
Sprzedawca
Księgarnia Internetowa Booknet
ul. Kaliska 12
98-300 Wieluń
Kontakt
Infolinia: 800 70 30 91
Tel.: 438431991
Faks: 438431991
Adres www
data aktualizacji oferty: 01.10.2017 | zgłoś błąd